Burdock Root Salad
Here is a great recipe for the big burdock plants that were starting to take over the back of the field. I knew they were useful for something. This is a triple sesame play.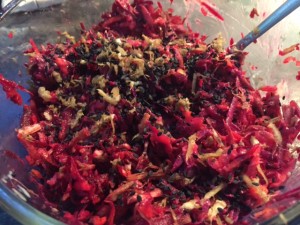 This recipe is home grown, inspired by a local sushi restaurant.
Ingredients for Burdock Root Salad
3 pieces of fresh Burdock root
1 beet raw peeled
a couple carrots from the field
3 tablespoons tahini sesame paste
3 teaspoons of sesame seeds
1/3 cup sesame oil
piece of ginger
1/3 cup of rice vinegar
3 cloves of garlic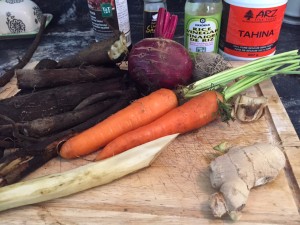 First Prepare the roots
You need to dig a big hole to get these things out they are almost always at least 1 or 2ft deep. But its worth it. The root has regenerative qualities and it tastes good grated raw in a salad like this.
Peel and grate the burdock root, carrots and beet into a large glass serving bowl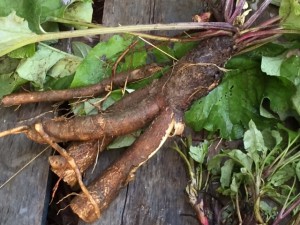 Triple Sesame Dressing
Finely chop the garlic and ginger into a small bowl and mix the rice vinegar, sesame paste, sesame oil. Pour over the grated roots and top with sesame seeds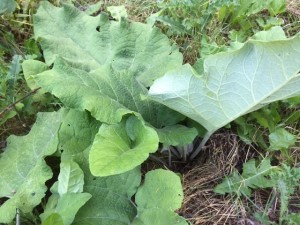 Dig it up and eat it and it tastes so good! I never even knew what burdock was until started taking over my fields.and I had an idea that it must be the root that is good. It can also be cooked sliced like potatoes.
Long after everything else is gone during the winter this is a nutritious food rich in iron, protein and carbs.