Yummy rice noodle salad wraps with grated sunchokes and carrots and duck egg sliced omelette recipe. The ducks are actually laying eggs! Enjoy with fresh garden garlic and herbs in butter.
.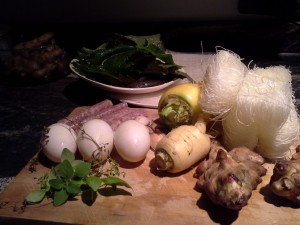 I love rice noodle wraps with crispy vegetables and with this spicy duck egg  omelette makes a great lunch with tribute to Kim Tran
2 Sausages – spicy, sweet or chinese sausages
3 Large Duck Eggs
1 sp butter, cooking oil or fat
4 cloves garlic
2 carrots (1 large yellow)  grated
2 sunchokes cut in matchsticks
Soy sauce, basil, pepper and sesame oil
8 sheets rice paper
2 cups roughly choped greens, kale, sorrel, joy choy, cabbage, lettace and beet greens
Peanut butter
Sweet chilli sauce
Sesame oil, sesame seeds
METHOD
Heat the butter add eggs and spices and cook for 3 minutes, remove from heat and slice into strips. Add the sausages to the frying pan and boil noodles in a separate pan on the side
Remove the sausages, drain noodles now add more garlic sliced carrots and sunchokes, to the frying pan with some more oil cook the remainining greens for 3min. remove from heat.
Wrap the sausage, egg and vegetables with the noodles, sweet chilli sauce and peanut butter. Yumm