We started with six ducks. Very loud, gluttonous and stupid, quite demanding and actually two of them turned out to be quite delicious when slow roasted with marmalade and maple syrup.
The remaining four ducks are well behaved and are now laying eggs.
Orange Glazed Free Range Roast Duck
(1) Free range duck – plucked 4lb
40g maple syrup
60g honey
20g Dijon mustard
2 sprigs fresh thyme  (1/2 teaspoon dried)
100 ml orange juice 1/2 cup
100 ml balsamic vinegar
3 cloves fresh garlic
2 oz cognac or quatro liquor
1 tbsp grated ginger
3 tbsp marmalade
Combine these ingredients in a large bowl. Dip the duck in the marinade and thoroughly cover it. Put it in the oven with the vegetables below and use the remaining sauce to pour onto the duck while baking every 15-30min
Fresh baked glazed root vegetables
To the bottom of the pan add
4 medium chopped Pemberton potatoes
4 carrots roughly chopped
4 beets
4 onions /  cloves of garlic and basil
2 tbsp oil, fat or butter
As the duck is baking every 15-30 min scoop the juices from the pan over the duck and roasting vegetables. Cook the duck at 375 F for about 1 and a half hours.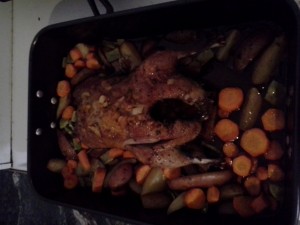 Roast Duck with fresh roasted seasonal vegetables. Enjoy