This recipe for making champagne is completely from scratch and worked better than any kit, maybe its just lucky or worth a second try.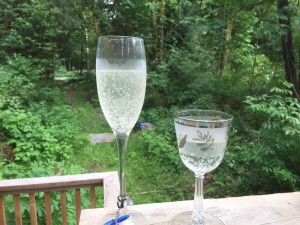 Crisp, dry and refreshing ready for summer.
Ingredients
large bucket of elderflowers
2kg sugar
5gallons fresh water
zest and juice from 4 lemons
5g packet of champagne yeast
First Collect the flowers
Collect a big bucket of flowers. Boil a large pot of filtered fresh water and make tea from the flowers. Let the flowers steep for 24hrs in the tea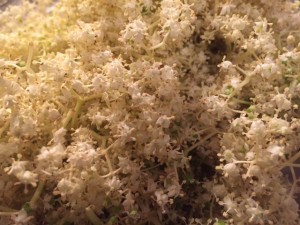 Make the brew
Strain the flowers out of the tea
boil 2 liters of fresh water and dissolve 2kg sugar
add tea and sugar water to a fermenting bucket
add the lemon rind and juice
add water to reach 5 gallons mix well
ensure the mix is room temperature
sprinkle champagne yeast do not stir
Leave to ferment
let the brew ferment for 6 days, then transfer to a clear carboy with an air trap. Let it continue for another week and then bottle. After the 6 days it is ready to taste, check on the process as it continues in the secondary stage.
Bottling
I like to add a little simple syrup 1oz to each bottle as the live yeast will continue to ferment in the bottle producing a bubbly, dry sparkling wine. Its a fine line between explosive and flat. Have fun.
The elderberry trees here in Squamish produce berries that are no good but the flowers are plentiful and the bushes grow like weeds.
Pick the flowers in the early spring under a full moon for best results