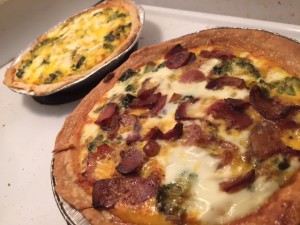 Recipe for Duck Egg Quiche with Bacon or Fetta, kale and broccoli

This recipe for quiche is for 2 dishes I use 2x10inch pie plates. Makes one with Kale, Feta, Broccoli or asparagus and one with bacon instead of Feta. Mom made quiche when I was growing up and I love them.

Ingredients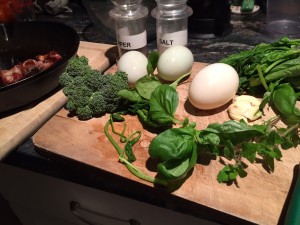 2 Pie crust (Pilsbury works well)
3 tablespoons butter
1 small onion chopped
2 cups fresh kale, spinach and sorrel from the field
2 clove garlic from the field
6-8 duck eggs
1 1/2 cup milk
3 cups shredded cheddar and/or monterey jack cheese
salt and pepper
handful of fresh herbs, oregano, thyme, rosemary chopped finely
1/2 lb bacon fried, cooked and ready finely chopped
This is a great way to eat lots of eggs. Right now we are getting 4 duck and 4 chicken eggs a day. They are definitely free range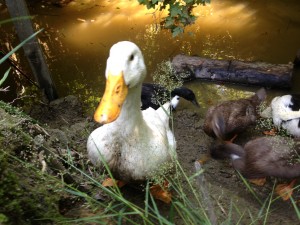 Duck Days out with Valentine at the pond.
Method
Bake in two 10″ pie plates or shorten recipe slightly for one 12 " baking dish
Pre-heat oven to 375 degrees F
Press pie crust into 2×10″ pie pans
Pre-bake pie crust for 10min. set aside
Mix eggs and milk in a medium bowl add the herbs
spread shredded cheese in the bottom of the pie crust
spread the onions and vegetables on top of the pie
add feta (and/or bacon)
pour the egg/milk mixture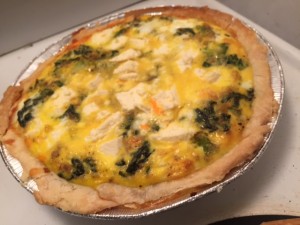 Enjoy !